Mars Movies
Mars Movies
Both of these science fiction movies are based on time travel and what the planet Mars might have been like if it had an atmosphere similar to Earth. Mars became a waste land millions of years ago and though there has been many hypothesis no one really knows what happened, or if life ever even existed on Mars at all. Mars is a planet with mystery and excitement of the unknown and many people have formulated different ideas about the existence of life on Mars and what it would have been like. There have been science fiction books written and science fiction movies made about mars over the decades which have even made the planet more interesting. Going to mars from Earth would be an undertaking of incredible ingenuity, knowledge and needed support from all the nations of the world to succeed. Lost on Mars and Empire of Danger are Science fiction movies that will take you to that place when there was life on mars and show you what it might have been like with a thriving livable atmosphere with human life. A place not to different from the way things were on Earth many years ago. If you have an imagination and you want to travel back in time to a far off and strange world of the past, then these two science fiction movies just might be what you have been looking for.
"Lost on Mars" - Science Fiction - Mars Movies

The first ship designed to go to Mars is scheduled for a routine planetary space exploration. The mission is drastically changed once Earth receives a strange signal transmitted by a probe on Mars. Once the three young astronauts land on Mars, they find a device that sends them spiraling back to a time when the ruthless Siperion Empire controls Mars. Their only chance of escaping from the past is to find the time device that brought them there in the first place. Approx 87 minutes. DVD NTSC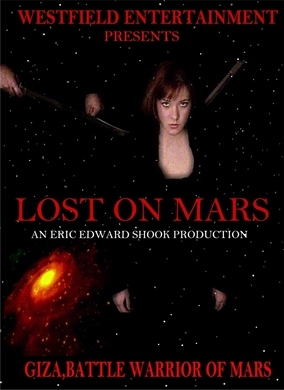 "Empire of Danger" - Science Fiction - Mars Movies
A newly designed spacecraft capable of going through time is sent to Mars to rescue a crew previously lost on Mars. The ship is sent through the past but to the wrong time, years later than the first crew. Once they land on Mars, the crew finds that it is a place where Bararians rule. The leader of the Barbarians is a female battle warrior named Giza that wants their ship to use as her own chariot through time where she hopes to steal the ancient power of the Masha. With that power, she will gain complete control of the Siperion Empire.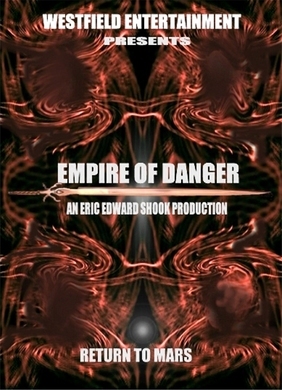 LOST ON MARS UPC # 854243002006
Cast of lost on mars: David Long, Megan Glosser, Gretchen Maxwell, Kelli Wilson, Brittany Wisovaty, Julia Gommell, Justin Hemming, Amber Distler, Eric Shook, Michale Dwiggins, John T, Oertling and Beverly Rankin.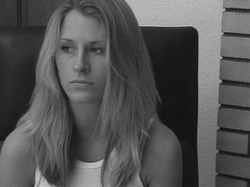 EMPIRE OF DANGERS UPC # 854243002013
Cast of Empire of Danger: Cindy Tozer, Traci Alms, Samantha Shook, Tatum Green, Caleb Howald, Stephanie Hunsicker, Darkeith Lofton, Jayson Johnson, Adam Kennedy, Eric Shook, Mike Davis, Heather Myers, Beverly Rankin, Randy Miller, Lester Fornshell, Mike Morrison, Mellissa Schutzbach, Derek Alms, Steve Rankin, Andrea Melton, Brenda Alexander, Lisa Love, Roger Anderson, and Justin Roley.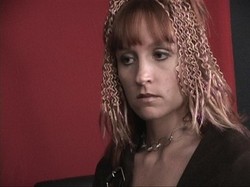 Distributor Pro-Active Entertainment Group
mars movies
Aelita
The Angry Red Planet
Battle Beyond the Sun
Capricorn One
Captain Scarlet vs the Mysterons
Christmas on Mars
Conquest of Space
Cowboy Bebop: The Movie
The Day Mars Invaded Earth
Destination Earth
Devil Girl from Mars
Doom
Empire of Danger
Escape from Mars
Flash Gordon's Trip to Mars
Flight to Mars
Flying Disc Man from Mars
Futurama: Into the Wild Green Yonder
Ghosts of Mars
Himmelskibet
Invaders from Mars
Invaders from Mars
John Carter
Just Imagine
Last Days on Mars
Lobster Man from Mars
Lost on Mars
Mad as a Mars Hare
Man Conquers Space
Mars and Beyond
Mars Attacks!
Mars Needs Moms
Mars Needs Women
The Martian Chronicles
Mission to Mars
Mr. Nobody
Mutant Swinger from Mars
My Favorite Martian
Princess of Mars
Race to Mars
Red Faction: Origins
Red Planet Red Planet Mars
Revenge of the Mysterons from Mars
Robinson Crusoe on Mars
RocketMan
Rocketship X-M
Roving Mars
Santa Claus Conquers the Martians
Spaced Invaders
Species II
Stranded: Náufragos
Termites from Mars
Thunderbirds Are Go
Total Recall
WatchmenWhat on Earth!
The Wizard of Mars
Rent or buy Lost on Mars here:
Rent or buy Empire of Danger here: