Bill Porter
Westfield Entertainment
Actor Bill Porter was raised in South Boston a large populated area of Boston Massachusetts. After high school Bill Porter enter the military and served honorably in the United States Army. Later in life he decided to move to Hollywood California where he started his career acting in various character roles. How can one size Billy Porter up in just a few words would be professionalism, strong character, experienced and dedicated. Not just anyone can do what he dose in front of the camera. He orchestrates the right elements to balance out each and every character performance he dose. He selects his roles very carefully making sure he can grasp what the character is all about and what the director want's before he even steps foot in front of the camera. Billy Porter has done various acting roles in front of the camera and he also adapts quite well on the theatrical stage. From Stage, Musicals, independent films, short films, to major motion pictures I don't think there's anything Mr. Porter can't achieve in his entertainment career.
Bill Porter (Actor)
The Mob - Bill Porter
"The Mob.. A Woman's Revenge"
Marlene Mendoza Executive producer
Some of Billy Porter Movies/Television
Devil's Choice
The Mob
Killing Angels
Newark Ave
Dominion
The Aftermath
Two Crazy Peas
Aftermath
Bleeding Out
The Debt
Call to Action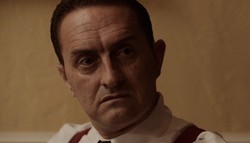 Bill Porter
© Copyright 2017